Action needed now – call or email today – Tue. Oct 6, 2020 at the latest!
SAVE THIS 100-YEAR OLD TREE
A two-week notice has been posted for an application to remove this tree. Help save this exceptional big leaf maple tree!
Located at 35th Ave and Spring  1 block east of Madrona Park
 The Heart of Madrona in Seattle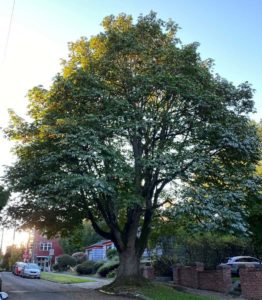 TREE 59973 is a 48" diameter big leaf maple, well over the criteria for an "exceptional tree" 
It is adjacent to a playground, on a key pedestrian route to Lake Washington, storing lots of carbon and fighting global warming.  David Kirske, Chief Financial Officer of CTI Biopharma Corp. seeks to cut down this gem to build a better driveway and sidewalk. (Yes, seriously).  And he refuses to talk to the community about collaborative approaches to save the tree.
Contact Nolan Rundquist, head of SDOT's Urban Forestry Division. 
 email at  Seattle.Trees@Seattle.gov 
(206) 684-TREE (8733). 
Reference # SDOTTREE0000252 (tree removal permit appliction number) 
Message: 
STOP KILLING OUR EXCEPTIONAL TREES
SAVE THE Madrona BIG LEAF MAPLE 
FIX THE SIDEWALK Instead  
BIG TREES ARE CRITICAL TO THE HEALTH OF OUR NEIGHBORHOODS AND URBAN ENVIRONMENT – storing carbon, redicing pollution and countering climate change.
E-mails should also be cc'ed  to Jenny.Durkan@Seattle.gov, Council@Seattle.gov, Sandra.Pinto_de_Bader@Seattle.gov
Thanks for your help.